The global context of poverty and hunger
In September 2015, the United Nations General Assembly adopted a set of 17 Sustainable Development Goals (SDGs) as part of the 2030 Agenda for Sustainable Development. SDG 1 seeks to "End poverty in all its forms everywhere" and SDG 2 seeks to "End hunger, achieve food security and improved nutrition and promote sustainable agriculture".
Poverty or social exclusion in the EU-28
In 2017, there were 112.8 million people in the EU-28 who lived in households at risk of poverty or social exclusion (AROPE), equivalent to 22.4 % of the entire population.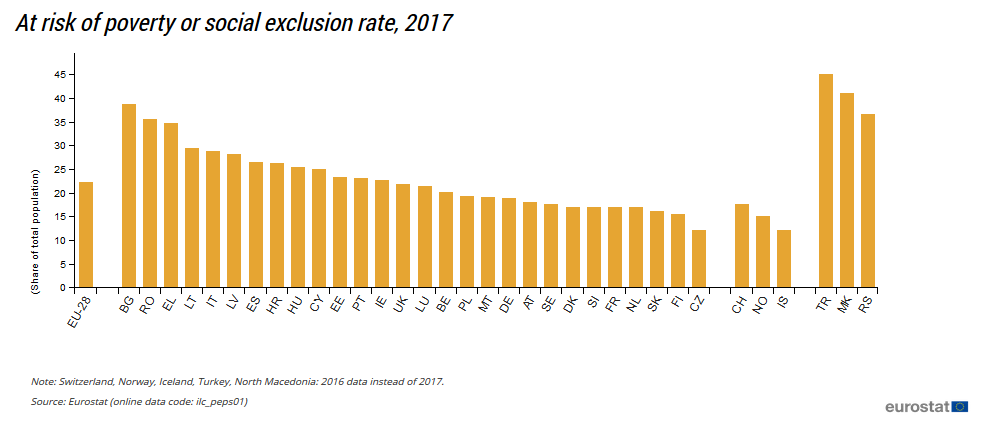 In 2017, 6.6% of the population in the EU-28 were severely materially deprived.
More than a third of the population was at risk of poverty or social exclusion in three EU Member States: Bulgaria (38.9 %), Romania (35.7 %) and Greece (34.8 %). At the other end of the scale, the lowest shares of persons being at risk of poverty or social exclusion were recorded in the Slovakia (16.3 %), Finland (15.7 %), and Czechia (12.2 %).
Learn more about statistics on people at risk of poverty and social exclusion here (updated in January 2019).
One of the five headline targets of the Europe 2020 headline indicators is to reduce poverty by lifting at least 20 million people out of the risk of poverty or social exclusion by 2020.
The Fund for European Aid to the most Deprived (FEAD)
The Fund for European Aid to the Most Deprived (FEAD) helps people take their first steps out of poverty and social exclusion. The FEAD supports actions of EU Member States to provide material assistance to the most deprived by addressing their most basic needs, which is a precondition towards social integration.
This includes food, clothing and other essential items for personal use, e.g. shoes, soap and shampoo. Material assistance needs to go hand in hand with social inclusion measures, such as guidance and support to help people out of poverty.
National authorities may also support non-material assistance to the most deprived people, to help them integrate better into society.
EU Member States may choose what type of assistance (food or basic material assistance, or a combination of both) they wish to provide, depending on their own situation, and how the items are to be obtained and distributed, in collaboration with partner organizations as Food Banks.
In real terms, over €3.8 billion are earmarked for the FEAD for the 2014-2020 period. In addition, EU countries are to contribute at least 15% in national co-financing to their national programme.
In 2018 12 FEBA members redistributed 165,000 tons of FEAD food products.
Read the
FEAD Mid-Term Evaluation Interim Report 2018
and the latest
summary on the implementation of the FEAD in 2017
.
FEAD Network
The FEAD Network is an open membership community for people providing assistance to the most deprived in Europe.
The FEAD Network brings together those working to reduce the worst forms of poverty in European countries. This includes EU level NGOs like the European Food Banks Federation and EU institutions, organisations interested in or delivering FEAD-funded activities and national Managing Authorities.
It provides a space for good practice to be shared and encourages new ideas for how to provide non-financial assistance to the most deprived persons in the EU.
Read the thematic dossiers:
- FEAD's contribution to sustainable inclusion (2017)
- Exploring sustainability in FEAD interventions (2018)